Simple, straight line quilting made quick work of getting this quilt finished over the weekend.
Made from a jelly roll of Madrona Road by Violet Craft, this quilt contains a piece of every fabric in the collection. I also added strips of Kona Cotton in white and ash to break up all those prints.
Sized for a small child, it measures 42" x 49".
I realized after I started putting the top together that the design echoed one of the prints, aptly named Broken Herringbone. It was the natural choice for the back. The black and white striped binding picks up all the black tones in the fabrics.
As always, the binding is machine stitched and I used my favorite method of gluing it down first. This photo shows the stitching along the front binding edge, catching it along the back edge. Works every time!
I really enjoyed sewing the herringbone design and would like to make it again with a more deliberate placement of the prints, rather than the random placement in this quilt. Hmmm...and maybe a tutorial, too.
Linked up with: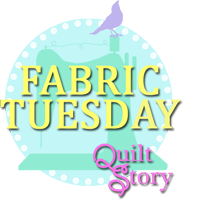 Happy Sewing,
Tessa Marie