This week's project revisits a quilt top I began while on vacation in North Carolina. The humble little square above is the main component of the Road to Tennessee block, a traditional quilt pattern that looks just as good today in fresh, contemporary fabrics. It is made by placing smaller squares on opposite corners of a background square and stitching diagonally across the small squares. There is no "rule" about what size to make the squares. In this quilt, the background squares are cut 5.5" and the white squares are cut 3".
TIP: Before trimming the excess, fold the triangle back to meet the edges and press. This ensures a nice square corner. Then open up and trim off the extra, leaving a 1/4" seam allowance, and save those trimmed off triangles to use in another project!!
The original plan for these squares was to lay them all out in the same direction, I had seen a beautiful quilt that was done this way. Once I made the squares and laid then out, however, it was obvious it wasn't going to work. I think the white was too bright or too light and the effect that I was after was lost. So my friend Holli and I rearranged a few times and decided that a criss-cross or lattice design looked best.
This block sure has a lot of points that need to match up, which begs the question of which way to press the seam allowances. Thanks to my above tip, all my seams were facing the same direction which does not lend itself well to joining the squares. First, I tried pressing half the seams in opposite directions so that the diagonal seams would nest. That worked well and made joining the squares easy, but when I knew that I would have to be careful with my placement so that joining the larger blocks would still allow me to nest my seams. I wanted the freedom to move squares around and I know from experience that I always manage to mix up the blocks!!
So my other option was to press the diagonal seams open. I found this to work well - they still matched up easily at the points and I didn't have to be as careful with placement because all the seams were pressed open. The vertical and horizontal seams were still pressed in opposite directions so that the seams nested at all the block corners.
I hope all that makes sense! The bottom line is that there is no right and wrong way to press your seams, the block assembly usually dictates the best way and a little thinking ahead will make the assembly process easier and better!
Was that too much reading? How about another picture...
All of these fabrics came from my stash and many of them are now out of print. I didn't have enough to make a lap sized quilt, so I was on a mission this summer to find some of the fabrics or others from the same lines that would fit in. I was thrilled to find these:
From left, Amy Butler Belle (the original not the reprint), Jennifer Paganelli Poodle, Joel Dewberry Iron Work and Amy Butler Daisy Chain. I bought the rest of the bolt of the paisley Belle fabric and plan to use it as a border or on the back. It is so awesome when I am searching for an out of print fabric, and I walk into a quilt shop and there it is!! It is like finding a hidden treasure! There are some real gems out there if you are willing to search!
Linking up today with Fabric Tuesday at Quilt Story. Be sure to check out what everyone is making. Hope you all have an amazing week.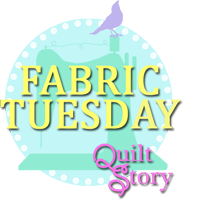 Happy Sewing,
Tessa Marie