Call me crazy, but I have gone and joined another round robin medallion along! During the summer, I got together with a fabulous group of women for a weekend sewing retreat in the mountains of Western North Carolina. At some point, it was suggested that we do a medallion along, and at first I resisted, but then succumbed to peer pressure and joined in. We have all just finished up our center blocks, and here is mine...
Ever since I saw
this quilt
on the cover of the French magazine, Quiltmania, I have been wanting to make a New York Beauty block. Back then, I had no clue how to make it, but have since learned paper piecing and am so excited to have pulled this off (curved seams and all)!! I am seriously in love!!
I used
this tutorial
, which includes a link to the free pattern from Quilting Treasures, and made an amendment to add the ring around the center circle. It was easy to do with a $2 compass, just remember to add the seam allowances!
Sadly, this block and I didn't get to spend too much time together, she has already been packaged and sent off on her adventure. There are ten of us in the group so I won't see her again for over a year. I have faith she will be well taken care of and will return to me looking spectacular!!
Linking up today at Quilt Story for Fabric Tuesday!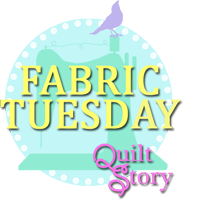 Happy Sewing,
Tessa Marie