I am getting together with a group of sewing girlfriends this weekend and it was decided that we would do a swap of mini items. There are ten of us, so that meant sewing up ten of these adorable little coin purses.
The pattern is called
UR Priceless
and is available on Craftsy from Mdm Samm by Sew Me and You. I chose the pattern because I like how the gusset gives it a nice rounded shape. The frames are just 1.5" x 3" and were purchased from
WhileBabyNaps
on Etsy. The pattern calls for sew in frames, but I have used the ones that you glue in. I use Gutermann HT2 glue, also from WhileBabyNaps.
Because I was making so many, I experimented with different stabilizers. Thinking that Pellon's Thermolam might be too stiff and bulky, I used a lighter weight fusible fleece that I got in a gift bag at Sew South 2014. It came in a package that I had already tossed so I don't know the brand (any Sew Souther's reading this that can help me out?) but it has a softer hand than the Thermolam. The above left used that one. Then I tried fusible quilt batting on the above right purse. It was almost too soft resulting in a smaller, squishier purse. I wish you could feel them to see the difference! I then switched to the Thermolam and decided that it probably was the best choice after all. Although, now that they are all finished, I like the look of the one with the unknown fleece the most and it fit the frame the best.
They went together fairly easily. Because they are small, they are a bit fiddly and turning them right side out through a small opening was just more than I could take. One, fine, but ten, ughh!! So instead of sewing the lining and outside right sides together and turning, I sewed them wrong sides together with a 1/4 seam and then trimmed close to the stitching line. It is going in a frame anyway, right? There is a little bit that shows at the hinge so I stitched a close zig zag over that area. You can sort of see that in these open views.
I don't think any two of these turned out exactly alike. Each time, I fiddled with it differently and tried to make it go together better. Some of them fit into the frame better than others, but that is fine, I think my friends will like them and that is what matters!
I am so looking forward to seeing my girls this weekend - sewing with friends is the best!!
Linking up with Fabric Tuesday at Quilt Story.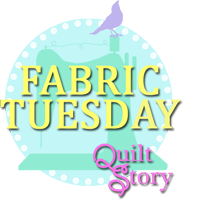 Happy Sewing,
Tessa Marie